Albarossa Salento IGP white wine, Palama
---
Albarossa Selection, Verdeva grapes Albarossa Bianco is obtained from the vinification of Verdeca, processed in purity to obtain a delicate and exceptionally fresh wine. Straw white in color, with a fresh and harmonious flavor, it is a pleasant aperitif.
---
Reference

PALAMA-ALBAROSSA-BIANCO

Origin area

Lecce / Salento

Cantina

Palama

Formato

75 cl

Gradazione

13%

Vitigno

Malvasia Bianca 50%, Verdeca 50%
Verdeca

Abbinamento

Piatti di pesce, crostacei, frutti di mare, ottimo aperitivo

Sapore

Colore bianco paglierino carico, profumo fruttato intenso, sapore fresco e asciutto.

Tipologia di terreno

Medio impasto

Affinamento

In serbatoi

Short production line / 0 Km

Si

Brand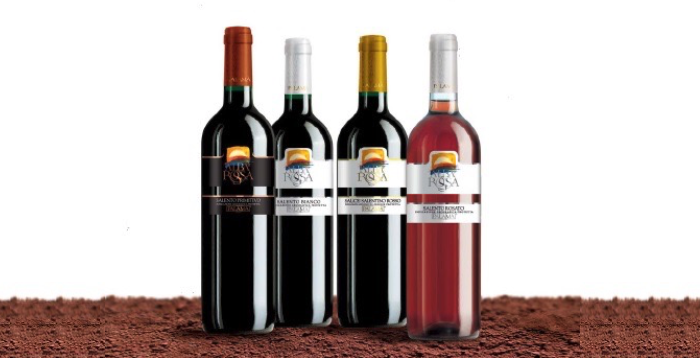 Albarossa Selection
Alba Rossa, is equal to the color of my earth at sunrise in the days of the strong north wind, though the grapes ripen well.
The low wine-sticks that go to the sea stand before my eyes, since I was born, they are part of my way determined by the wine.
The Salice rosso consists of Negroamaro and black Malvasia, which come from wine sticks, which are drawn on trellises. Ruby-red color, permanent coloring of the rim of the glass: in the mouth it is dry, intense, just as it pleases us.
Rosato wine, fresh fruit, which takes the thirst, presents the people of my region best: honest, genuine, like the white wine only from the vine verdesca, which carries the salt of our coast.
I go a little north to get the best Primitivo, from which I make a strong wine, intense, with great character.
Alba rossa is the better Salento, the sun, the sea, the wind. Lots of wind ...
The Palamà Winery is located in Cutrofiano, Salento region in Puglia, since 1936.
The wines are obtained from the native Apulian vines growing on espaliers or small trees: Negroamaro, Primitivo and Malvasia Nera vines are used to produce pure or blended wines. Ninì and his family are personally responsible for the vines, for harvesting and for wine making.
In 1996 the cellar has started to produce its first bottles, and it reached an important role on international markets from the very beginning. From that moment on, the mission has been to never stop searching for an always better quality.
International press and wine guides have always written enthusiastic comments about Palamà wines.
No customer reviews for the moment.
3 other product:
---
Sparkling White Wine, obtained with the long Charmat method which gives fine and persistent perlage.
 Out-of-Stock
---
Land that black hands transform the sun of the two seas into baked art. Lights and reflections of the East. Aromas and flavors screamed at an incessant rhythm like the notes of pinched singers. Krita white Malvasia igp salento.
 Out-of-Stock
---
Metiusco, from Greek "I become inebriate". White full-bodied wine, warm and rich in its fragrance. Common in the Salento warm lands, obtained by the winemaking of Verdeca and White Malvasia grapes. Best served chilled.