More info
Extra Talento is an extra virgin olive oil coming from "Ogliarola Leccese" olives; it's aroma is well balanced and fruity, due to the use of cold crushing techniques and to the magical land where these trees are grown.
Olive oil tasting time
Extra Talento is a fruity extra virgin olive oil: if smelled, it shows ripe fruit and green olive notes; an even more attentive tasting will reveal a whole bunch of nice flavor notes, leaving in your mouth some vegetable notes, such as wild chicories and artichokes notes.
This oil, produced by the farmhouse of Dario Donno is not only an olive oil among the others, but a special and unique organic product, having a wide range of important nutritional facts. It's rich in polyphenols: 410.7 mg / kg, a great result that confirms the great quality of this organic extra virgin olive oil.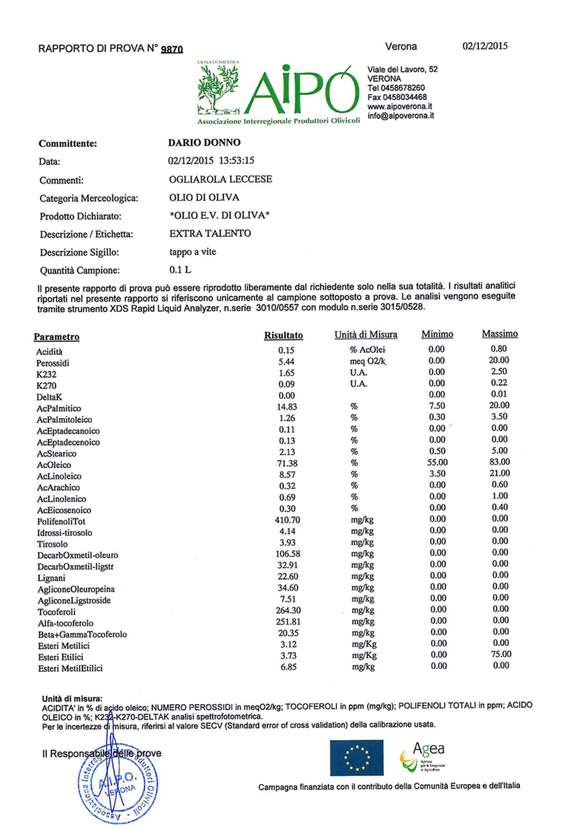 The price does not include the carton packaging. 1 lt, 3 lt and 5 lt formats are shipped in tins.
100 ml and 250 ml size glass bottles have the anti topping cap.
500 ml glass bottles have the measuring cap.
Customers who bought this product also bought: