Glazed Ceramic PUMO
---
The famous glazed ceramic Pumo from Grottaglie, a pretty apulian town. An elegant gift idea symbolizing fertility and good health, perfect as a party favour for your wedding or ceremony.
---
Reference

PUMO-8-BIANCO

Origin area

Lecce / Salento

Handmade product

Si

Short production line / 0 Km

Si

Brand
ATTENTION, before ordering know that the DELIVERY TIME REQUIRES A MINIMUM of 15/20 DAYS DUE TO THE PRODUCTION TIMES, we do not accept URGENT requests under 15 days, thanks
FREQUENTLY ASKED QUESTIONS, we recommend reading the page to the bottom
Is it possible to choose other colors, in addition to the four?
Yes of course, on the page at the bottom you will find a color table, to choose more than the seven, we advise you to add the desired quantities and sizes to the cart (even of the same color). Subsequently, when you are completing your order, on the address page you will find a notes field: use that space to communicate the colors you want.
Are there any further measures?
The measures can be found in the part where it says "select height / size" by clicking on it you will find the measures to select and the relative prices.
Are there any discounts ?
On the page you will find the quantity discounts section, this means that from a quantity onwards you will pay the price you find written.
What are the timelines?
The timing depends on the availability and on the orders in progress. We always have a stock, however, at certain times of the year or for particular colors, we will produce the Pumas especially for you when you order. Since it is an artisanal product made on the lathe and hand-enameled, the entire process requires a MINIMUM of 7/10 working days, this means that we cannot guarantee and be certain of the delivery times, so we ask you to order for time.
How is the size of the Apulian Pumo calculated?
The size of is calculated in the sense of height, the width is proportioned as in the photo.
Are the dimensions accurate?
No, the dimensions will never be precise, because it is a handmade product, handcrafted and made specifically for you, so there may be discards of up to 1 cm, if you buy 4 Pumi of 14 cm it could happen that one is slightly more longer than normal and one slightly shorter than normal, which is not a defect, indeed, a merit, precisely because all our pumas are handmade from beginning to end.
Are PUMI available?
YOU FREQUENTLY ASK US IF CERTAIN COLORS OR SIZES ARE AVAILABLE, everything is available, because we are artisans and everything is eventually produced, we cannot guarantee immediate availability. If your order is not available, the status IN PRODUCTION will change and we will inform you of everything by email. In any case, we are always available for any doubt or question.
Do you make packages?
We do not make packages for ceremonies, because the pumas are packed for shipping and therefore specially protected. The boxes are available separately and here you will find solutions by choosing them based on the measurements.
How are the pumas shipped?
The pumas are shipped appropriately wrapped in a plastic material - the bubble wrap, a particular plastic sheet strengthened by many "bubbles" of air - designed to protect them better during the trip. Once packed, they are placed in your package.
What happens if the pumas arrive broken?
Usually our ceramic products do not arrive broken, because we put the utmost care in the packaging, using a sturdy "bubble wrap" and packing them firmly inside the package. However, it is not in our interest to send a package that runs the risk of breaking. In the unfortunate event of this happening, however, the product will be returned to you again at our expense.
The prices of the Apulian Pumo
The prices of the Pumo are measured in height and it is possible to select them from the height / size menu to find out the price of each size, for convenience we report here the list prices that may vary according to the quantity purchased.
8cm 8,90€
10cm 11,90€
12cm 17,90€
14cm 23,40€
16cm 36,80€
20cm 58,40€
22cm 66,20€
26cm 89,80€
28cm 119,80€
30cm 142,80€
46cm 226,00€
To find out the discounted prices based on the quantity above, find the DISCOUNTS BY QUANTITY section, to find the quantity discount for each size you must select the size.
If you have to order several pieces, it is not important to select the color, it is important to select the size, so you can also buy all white and then later in the notes field that you will find during the purchase, tell us the colors chosen.
The name "pumo" comes from the local dialect and it means "apple". Its shape is not exactly that of an apple, but that of a blooming flower. It's one of the most famous symbols of the Apulian pottery art. Its baroque style, with an elegant conical shape surrounded by leaves, evokes exactly that of a bloom, and as a consequence expresses the good omen of prosperity and fertility. It's a great gift ideas for a just married couple and it's perfect as a party favour too.
Pumo is a handmade ceramic artifact and represents the bud of a rose that is about to bloom, it represents the new that is born ... And it is for this reason that besides being an original piece of furniture, it has a very important meaning, in fact it symbolizes : abundance, prosperity, fertility and novelty.
A special fortune-maker made entirely by hand by local artisans, for this you will never find a totally identical one, each one will have its own character its peculiarity.
This product was made and handmade in Puglia,
in a craft workshop, with great passion and love.
DEFY FROM IMITATIONS !!!
Il Pumo, a unique Apulian handicraft
Pumo is a typical decorative element of the Apulian handicraft, which you will surely notice during a vacation in Puglia. Looking upwards and observing the splendid baroque balconies of many small villages of the Italian heel, you will notice strange "eggs" embellished with leaves right there, in beautiful view.

Today the Apulian and Salentine decorators make and decorate these beautiful eggs still by hand, just like their fathers did. Sometimes the colors are fanciful and the motifs stylized, at other times the pumo takes on a splendid white color tending to iridescent.

It is a truly unique object of its kind, and you can travel around the world without finding anything like it! But where does this sinuously elegant and yet so singular form come from?
Symbols of Pumo
The shape of the pumo, let us consider it, is precisely that of a bud about to bloom. A closed bud, surrounded by tender leaves. In Puglia it is made of glazed ceramic in various colors: white is very common, but you will also find it in a splendid aquamarine, green, red, or even decorated in many different ways, mixing baroque motifs and bright colors together.
The bud is a symbol of rebirth and a good omen. And speaking of rebirth, if you notice the pumo will also be easily associated with an egg, symbol of Easter and the rebirth par excellence. An elegant sinuous decorative motif, perfect for your exteriors or for your interiors, splendid to exhibit on a sideboard or in a display case.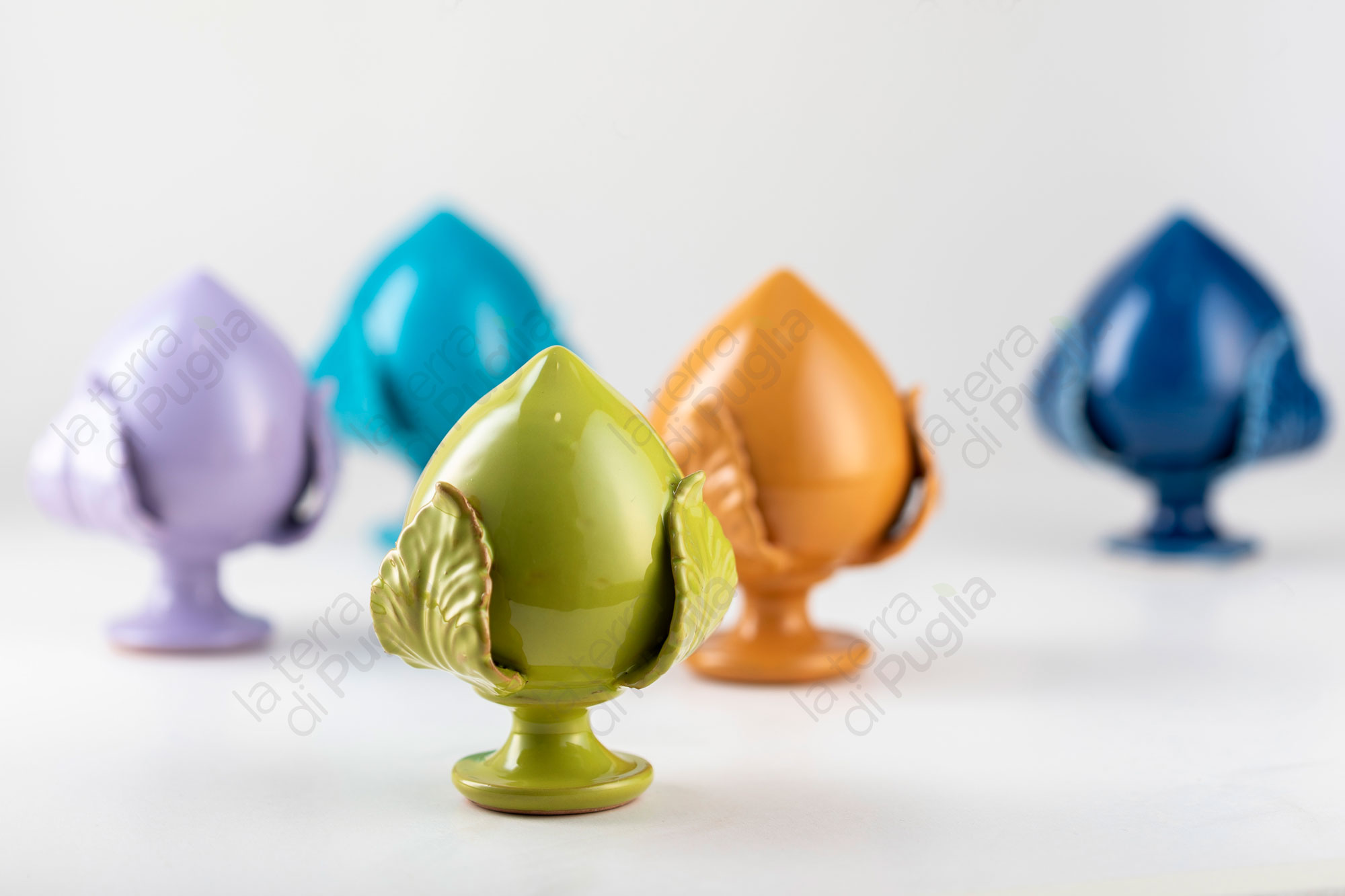 Gift idea, favor or souvenir?
Pumo is a wonderful gift idea for spouses who are about to start a life together or for a family that moves into a new home; or again, for a shopkeeper who is preparing to start a new business, for example.
All this because pumo - whether interpreted as an egg or as a bud - is exactly a symbol of good luck and a good omen for the future to come.
A wonderful idea for a wedding favor to offer to guests at a wedding, or a nice "souvenir" to take home after a trip to Puglia. A very elegant and always up-to-date furnishing object.
The more it grows, the more details there are, especially on the leaves and inside the base. You can browse the photos of the various measurements by clicking on the size, we have inserted some samples to realize the type of detail that can change.
Up to the size 12cm the base of the Pumo has a base in the inner flat and unglazed, from the 14cm the inside of the base is empty, enameled with the hole.
I Pumi da 22, 24 e 26 cm possono essere acquistati solo per il colore bianco, per altri colori contattateci
COLORI A DISPOSIZIONE
Questi tutti i colori a disposizione su richiesta.
La personalizzazione con le iniziali è possibile solamente con i colori chiari: BIANCO e CREMA
Per acquistare uno dei colori che trovate su questa immagine basta selezionare un qualsiasi colore e nelle note richiedere il colore scelto. ATT.NE non tutti i colori e le misure possono essere immediatamente a disposizione, nell'eventualità abbiamo bisogno del tempo di produrlo, se avete urgenza prima di acquistare contattateci sulla chat.
PERSONALIZZAZIONI
E' possibile aggiungere delle personalizzazioni sul Pumo, come logo o altre immagini, dipende dalla dimensione. Questo richiede una lavorazione aggiuntiva ed il costo è di circa 1,20/2,00€ per ogni logo. Abbiamo varie misure a disposizione, sul sito troverete le principali, per altre particolari esigenze potete contattarci.
Quantità a disposizione
Potete ordinare e comprare quantità illimitate di Pumi, se non disponibili verranno messi in lavorazione, il pagamento va sempre anticipato. Per la produzione dei Pumi mancanti potrebbero essere necessari circa 10/15 giorni lavorativi.
ANCHE SE DISPONIBILI ALL'ACQUISTO SE AVETE URGENTE O NECESSITA' DI UN COLORE ED UNA MISURA ESATTA VI CONSIGLIAMO DI CHIAMARE O CONTATTARCI
Confezione e spedizione
Nel prezzo del Pumo non è inclusa la confezione, saranno inseriti/o in una scatola da spedizione, con tutte le protezioni del caso affinché non si danneggi.
Eventualmente proponiamo una scatola semplice in cartone riciclato, che inseriamo smontata nella scatola insieme ai Pumi, il prezzo varia dai 0,80€ ai 4€ dipende dalle dimensioni.
La distinzione tra la produzione artigianale e quella industriale conferisce tanto i suoi caratteristici pregi (l'originalità creativa, pezzo unico) quanto i suoi inevitabili difetti (piccole imperfezioni, tempi di produzione e costi maggiori), nessun Pumo sarà identico all'altro, anche se facciamo di tutto a mantenere uno stile identico. Dato il tipo di lavorazione artigianale
l'altezza può variare
e non essere esatta, con un errore che potrebbe essere di circa 1cm più o meno.
La bottega artigianale
La bottega figulina è una delle più antiche d'Italia, attiva sin dal 1650 ultimo degli eredi di questa lunga stirpe di ceramisti e insieme ai figli, rispetta ancora oggi la tradizione dell'artiginalità dei manufatti, lavorati e decorati a mano.
L'abilità nel modellare l'argilla fa si che ogni oggetto realizzato sia unico nelle forme, nei decori e nel colore. La mescola e l'abbinamento degli smalti è una delle tante peculiarità tramandete di padre in figlio. Segreto custodito gelosamente da un'azienda che da sempre ha dato tutto per mantenere la tradizione e far emergere l'arte della ceramica.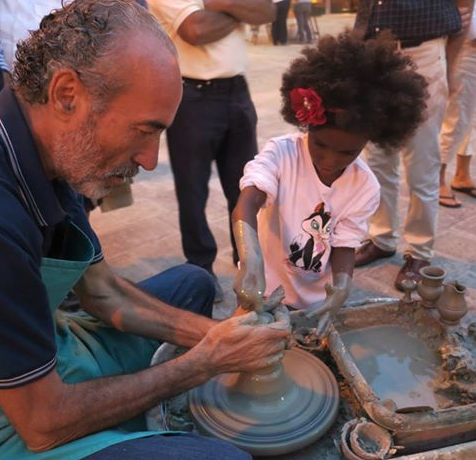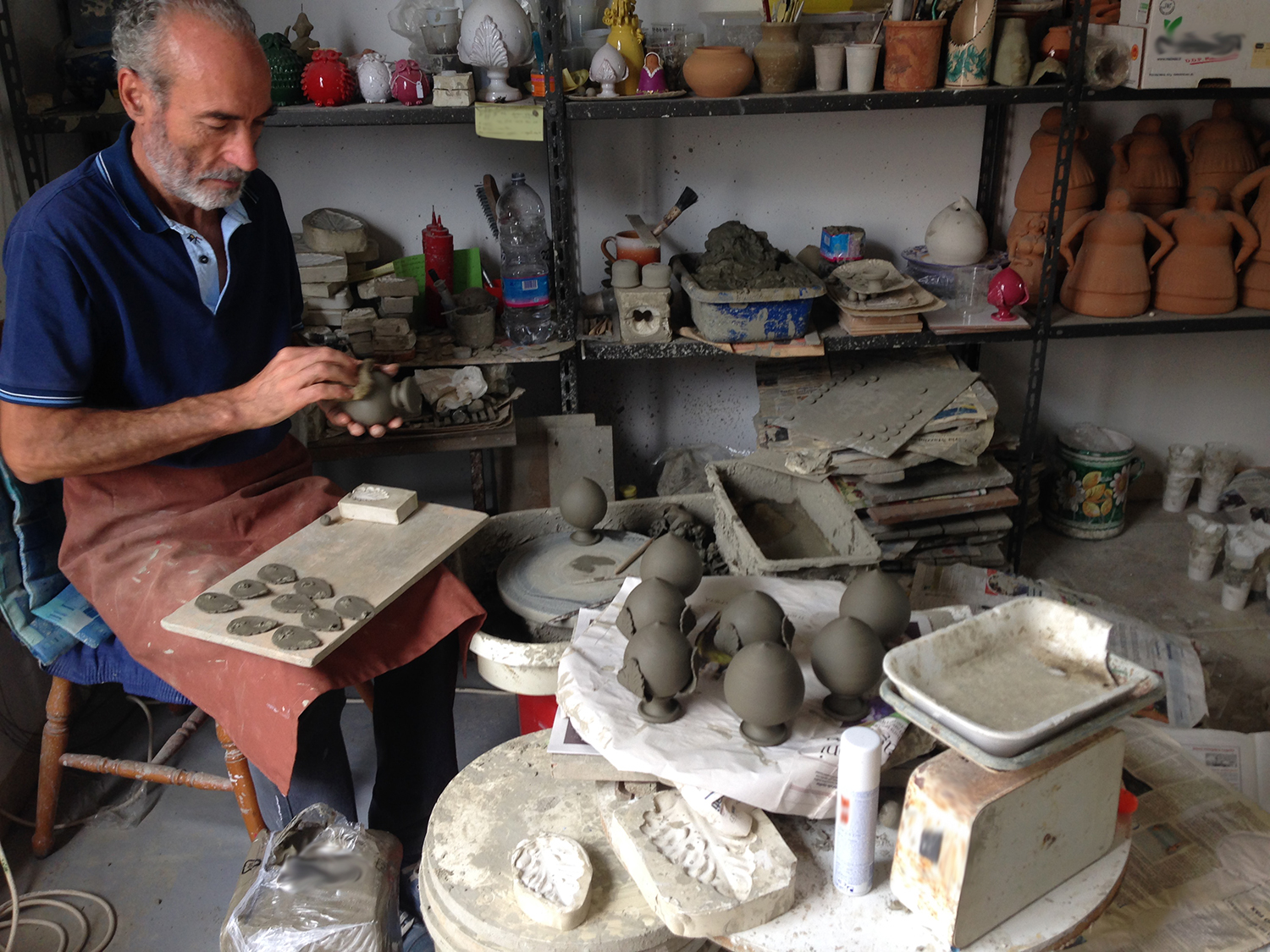 Customers who bought this product also bought: