Obtained by Negroamaro, a kind of local grapes. Ruby red with orange hues, excellent in its warm and delicate taste.
Gently accompanies roast meat, red meat, "pezzetti" (chopped horse meat with tomato sauce) and boiled vegetables.

Best served at ambient temperature.

TECHNICAL SHEET
GRAPE HARVEST: 2013
ALCOHOLIC CONTENT: 12,5% vol..
GRAPEVINE: 100% Negroamaro.
PRODUCTION AREA: Salento, in the province of Lecce.
SOIL: Medium mixture.
PLANTS ARRANGEMENT: little tree and espalier.
REFINEMENT: in tanks and in vat covered with earth.
FEATURES: ruby colour with orange tints, winy smell, warm and delicate taste.
SERVING TEMPERATURE: room temperature.
COUPLING WITH: roasted meats, red meats, done vegetables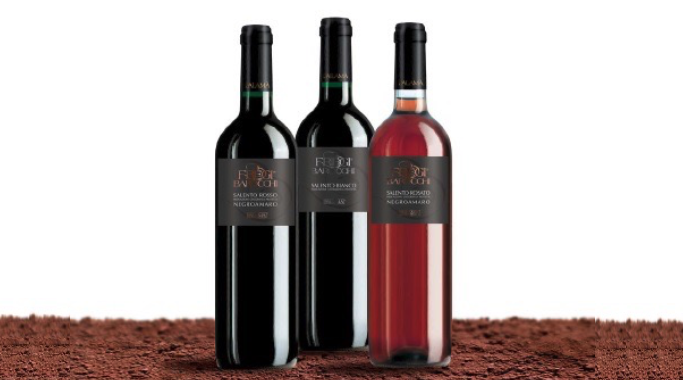 Albarossa Selection
Alba Rossa, is equal to the color of my earth at sunrise in the days of the strong north wind, though the grapes ripen well.
The low wine-sticks that go to the sea stand before my eyes, since I was born, they are part of my way determined by the wine.
The Salice rosso consists of Negroamaro and black Malvasia, which come from wine sticks, which are drawn on trellises. Ruby-red color, permanent coloring of the rim of the glass: in the mouth it is dry, intense, just as it pleases us.
Rosato wine, fresh fruit, which takes the thirst, presents the people of my region best: honest, genuine, like the white wine only from the vine verdesca, which carries the salt of our coast.
I go a little north to get the best Primitivo, from which I make a strong wine, intense, with great character.
Alba rossa is the better Salento, the sun, the sea, the wind. Lots of wind ...
The Palamà Winery is located in Cutrofiano, Salento region in Puglia, since 1936.
The wines are obtained from the native Apulian vines growing on espaliers or small trees: Negroamaro, Primitivo and Malvasia Nera vines are used to produce pure or blended wines. Ninì and his family are personally responsible for the vines, for harvesting and for wine making.
In 1996 the cellar has started to produce its first bottles, and it reached an important role on international markets from the very beginning. From that moment on, the mission has been to never stop searching for an always better quality.
International press and wine guides have always written enthusiastic comments about Palamà wines.