Gambero Rosso
Tre Bicchieri "Salento IGP 75 Vendemmie 2011Concours Mondial de Bruxelles
Medaglia d'Argento Salento IGP 75 Vendemmie 2012
In 1936 my father, Arcangelo, fell in love with a vineyard and its fruit.
With the same passion, my sons and I are carrying on his work.
Seventy-five years later.
TECHNICAL SHEET
GRAPE HARVEST: 2011-2012
ALCOHOLIC CONTENT: 14,5% vol..
GRAPEVINE: Negroamaro.
PRODUCTION AREA: Salento, in the provinces of Lecce.
SOIL: Medium mixture, basically calcareous.
PLANTS ARRANGEMENT: little tree.
REFINEMENT: End of fermentation and malolattica in barriques.
FEATURES: red-ruby colour, intense very special smell, elegant and fruity taste.
SERVING TEMPERATURE: 18-20° C.
COUPLING WITH: strong dish, roasted meats, hot cheese.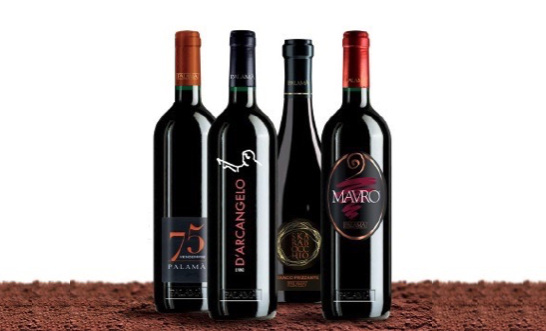 The Palamà Winery is located in Cutrofiano, Salento region in Puglia, since 1936.
The wines are obtained from the native Apulian vines growing on espaliers or small trees: Negroamaro, Primitivo and Malvasia Nera vines are used to produce pure or blended wines. Ninì and his family are personally responsible for the vines, for harvesting and for wine making.
In 1996 the cellar has started to produce its first bottles, and it reached an important role on international markets from the very beginning. From that moment on, the mission has been to never stop searching for an always better quality.
International press and wine guides have always written enthusiastic comments about Palamà wines.